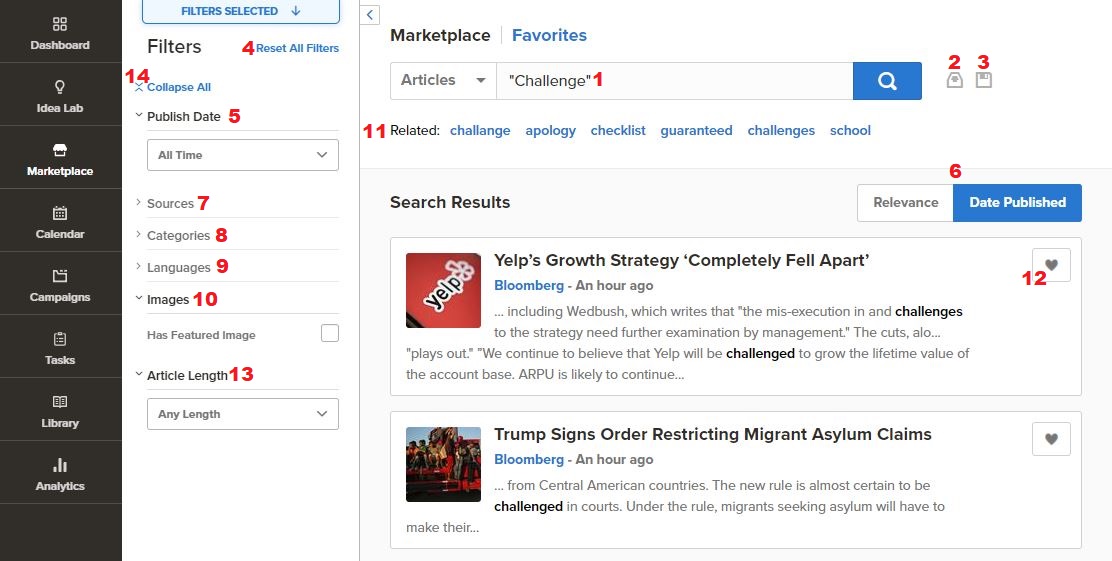 1. Keyword Search
Enter a search term to return articles containing those terms. If you add "Surround your term in quotes," it will show results of articles with that exact phrase. Without quotes, you will get articles with each of those words, but in no particular order. 
2. Load a Saved Search
When you signed up for NewsCred, we'll set you up with a set of Saved Searches that are designed to return content relevant to your business needs. Click the tray icon to order to select and fire up one of these searches. 
3. Save a Search
You've just put together a masterpiece search using keywords and filters to their fullest extent. Clicking the floppy disk icon will save that search so you can run it again in the future and get tomorrow's batch of articles using the same filters. 
4. Clear All Filters
Returns the search to its blank state, showing all of your available content in reverse chronological order. 
5. Date Range Picker
Filter content in certain a date range by using a specified start and end date.
6. Sort by Relevance/Date
If you want to see the most recent, sort by "Date". If you want your filters to carry more weight, sort by "Relevance". 
7. Sources
Filter results for a specific source, or leave them all unchecked to show all. 
8. 9. 10. Categories/Languages/Images
Filter broadly by category, language, or whether or not the article contains an image. 
11. Related Key Words
Suggests related keywords. 
12. Favorite
If you want to "Favorite" an article, click the heart and it will show up in your favorites section for later use. 
13. Article length
You can look for articles with a specific word length.
14. Collapse All
This collapses all your filters.